Reasons to invest in Solbequi products and improve Indoor Air Quality. (more information)
Legal Aspect
- Most countries have national laws that make the owners or technicians of buildings and facilities for preventing the spread of microorganisms, such as bacteria Legionella, in ventilation systems.
- Sanctions are applied, ranging from monetary penalties, closing buildings of up to five years, and conviction in court for the death of people.
- At European level, ELDSNet established directives that telling how to participate, sort and prevent this disease.

Quality of Life
- We consider the concerns about health, well-being, comfort and its connection with the Sick Buildings Syndrome.
- Statistics in the United States show that about 10 billion dollars are lost due to lack of productivity and absence from work caused by poor indoor air quality in companies. Customer complaints of hotels, companies etc. are other important factors to take into account.

Economic benefits
- To choose a product that does not cause side effects, such as corrosion, means saving in material and interruptions in business for probable repairs.
- To have your employees in security means a better working environment, as well as higher productivity and lower absenteeism, due to illnesses such as flu, headaches, irritation and respiratory infections, not to mention the legionary disease.
- Your customers feel complete security is an asset for your business.
Why apply tablets in condensates trays? (more information)
- Preventive hygienic maintenance and improvement of Indoor Air Quality.
- Cost effective solution, safe, effective and easy to apply.
- Avoids the development of unpleasant smells.
- Prevents the multiplication of micro-organisms (biofilms, commonly called sludge), which reduces the corrosion and degradation of equipment.
- Prevents clogging of drains, avoiding damages and costs caused by flooding of the premises.
- Health, well-being and comfort of the occupants.
How to monetize a punctual cleaning and disinfection action? (more information)
This product allows to monetize a punctual cleaning and disinfection action. With the simple application of a tablet, it is ensured prevention, with a continuous efficacy between 2 to 4 months.

The application of the tablet does not require additional human resources as it is carried out in the course of operations, as defined in the maintenance plan of the premises. Simply placing a tablet in each device has a continuous and preventive action, between two to four months. The condensation trays remain in a state of permanent disinfection 24h / 24h and the indoor air healthy.
Cleaning and disinfection procedures (more information)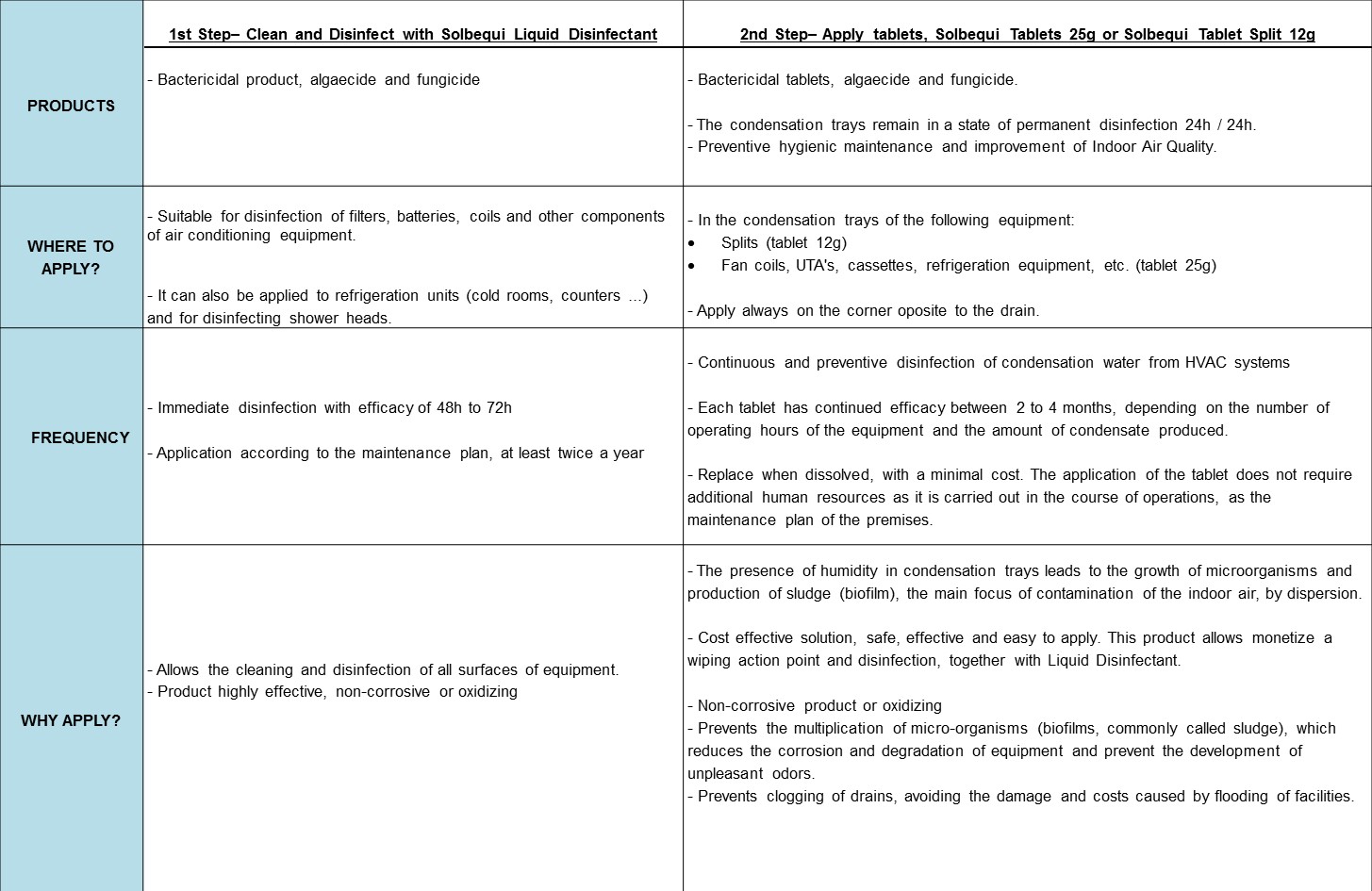 Cleaning & Disinfection / Prevention of Legionella
Tested and Certified Products (more information)
• Its effects have been tested and proven that, when applied correctly, do not cause any harm to people, animals or equipment.

• Tested by independent laboratories and universities, in particular, by the National Institute of Health Dr. Ricardo Jorge (Portugal), Pasteur Institute in Lyon (France), Eurofins Laboratory (France), Erasme Institute (Belgium), Laboratorio de Análisis Echevarne (Spain) University of Badajoz (Spain), Faculty of Pharmacy (Portugal).

• Comply with the European standards corresponding to biocides in general and agents against Legionella in particular.

• Biocidal products with authorization for placing on the UK, French and Portuguese markets, according to local and European legislation.